World of Warcraft Blocks for Drupal
I have been working on a site for a World of Warcraft guild to get their frontpage up to scratch with their old site which was running the TinyPortal on SMF. With a server change and some mods becoming unsupported, the decision was made to switch to something else for the frontpage. I had only one thing on my mind which was Drupal. But soon found that there didn't appear to be many modules on Drupal.org for World of Warcraft. So far I have created two blocks using the Block API module I developed and will release more when I have written and tested them. Both blocks are set up in one module, which I have called wow_blocks. If you already have a module called wow_blocks, it may be a bit of a mission getting this to work, so you will have to chose one of the modules.
Download: Downloads can be found on the World of Warcraft Blocks project page.
Updates
2011-01-21 23:30

Added D7 version with the new zones.

2011-01-09 00:35

Added new zones and bosses to progression block.

2010-11-14 09:00

Fixed image paths to work if base_path isn't /.

2010-11-12 19:30

Updated the code for the newest version of block_api.
Block 1: Recruitment
The first block is a block for recruitment. An admin can set the roles and specs that the guild requires to be displayed in the block, so users know which areas the guild is recruiting in.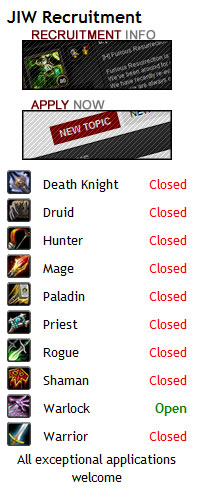 All the images are included in the ZIP file. The admin screen, allows the admin to select the links to use for the Apply now and Recruitment details buttons as well as options for each individual role and spec.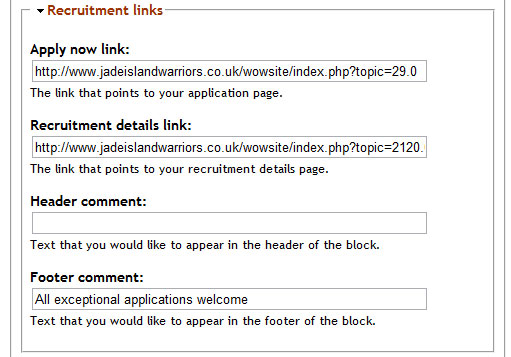 Click for larger version
Block 2: Progression
This block shows the guilds progression against the bosses of the game.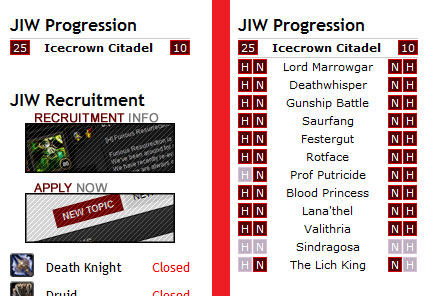 The block features an expandable group of game zones with all the bosses in the zone. All bosses from the following zones are in the module:
Icecrown Citadel
Argent Coliseum
Ulduar
Eye of Eternity
Obsidian Sanctum
Naxxramas
Vault of Archavon
As of 9th January 2011 the following extra zones are available:
Blackwing Descent
Bastion of Twilight
Throne of the Four Winds
Admins have full control over which zones are available and shown in the block as well as selecting which bosses have been defeated. If you have any requests for World of Warcraft related blocks, let me know in the comments.